Residents of Fridley, a sewer improvement project is beginning next month and will last through Sept. 2016. The Metropolitan Council Environmental Services hosted an information session at City hall last week to present a description of the necessary work for our sewer structure. If you missed your chance to ask questions, no worries, simply call the staff at MCES. The work strategy will encompass several stages and is required as the pipeline is almost 50 years old and is showing signs of potential leakage into the sewer. The City is installing temporary sewer pipe during this year long undertaking. These will be located along the railroad tracks and Rice Creek West Trail. You can also expect around the clock working hours for part of this rehabilitation project. When the restoration is complete, the pipeline repairs are expected to augment the life of the sewer system for many decades.
Perma-Liner Industries has been repairing and rehabilitating pipelines since 1999. We have the knowledge base and equipment to offer our best to you. Our trenchless, Cured in Place technology has a proven track record. Call us or go online to www.perma-liner.com to find out how we can help.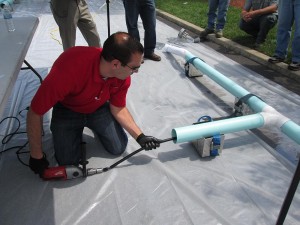 Minneapolis, St. Paul, SAVE THE DATE!!
Mark your calendars because you won't want to miss this! On September 23rd Perma-Liner Industries is hosting a very special event and we'd love to see you!! We're having our Open House at our facility in Plainfield, Illinois and it's sure to be a great time. We'll have our excellent staff here to answer all of your questions about Cured-in-Place Pipeline products and our state of the art trenchless technology. Come out and see live demonstrations, share friendly conversations and gain information. Meals will be provided! Please register at no cost: info@perma-liner.com or 1-866-336-2568. Click Here to Register!